The housEvolve System
housEvolve Main Controller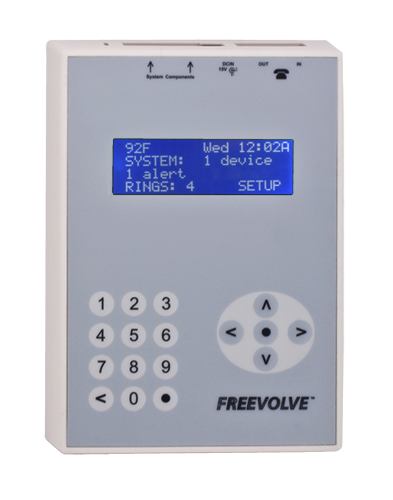 The heart of housEvolve, it will give you full remote access to any system components, from anywhere in the world, right on your phone!
Add one or more housEvolve Thermostat modules to monitor, control and become aware of problems related to your home's Heating and Air Conditioning System or indoor temperature
Add one or more housEvolve Water Presence Detector modules to detect the presence of water in areas of concern. If equipped with a valve, the system will automatically turn the water off if one or more sensors become wet!
Add one or more housEvolve Garage Door Controller modules for remote access to your garage doors! The system will even call you to report a garage door that has remained open too long.
What can the housEvolve Main Controller do for you?
Stand-alone / Networked Features:
Calls up to 5 pre-programmed numbers to report alerts
Current temperature reporting
Freeze/overheat reporting
Power failure reporting
Low battery reporting (system backup battery)
Remote and local access to system settings
Networked Features:
Rechargeable backup battery keeps the entire system running for up to 36 hours each time power fails
Reports the average system temperature, as well as the local temperature at each thermostat present on the network
Provides convenient remote access to the entire system over an easy-to-use, 2-way interface
Allows the user to control all system features, even alter settings, locally or remotely!
Supports up to 5 Thermostats, 5 Garage Door Controllers and 5 Water Sensor Pods (or 30 Water Sensors)
Password recovery mechanism for all authorized users
Fully-featured housEvolve Kit includes:
housEvolve Main Controller with rechargeable battery backup, AC power adapter and 7ft telephone data cable. Model he_ti. Build-in Current Temperature, Freeze/Overheat Conditions and Power Failure reporting over the phone.
housEvolve Thermostat with mounting hardware and 25ft network cable. Model he_th. Fully programmable digital thermostat gives you full access over your indoor temperature controls from home or away. Reports problems with your Heating/Air Conditioning system, Freeze and Overheat Conditions.
housEvolve Water Presence Detector with 3 sensors, mounting hardware and 25ft network cable. Model he_wpv. Allows you to monitor up to 6 sensors and control up to 2 water shutoff valves. Valve(s) are automatically shut off if water is detected. Additional valve and sensors can be purchased separately.
housEvolve Garage Door Controller with door position sensor (including 25ft sensor cable and 5ft garage door opener interface cable), mounting hardware and 25ft network cable. Model he_gdc.
housEvolve Garage Door Access Keypad with mounting hardware and 25ft network cable. Model he_gdc_kpd1 (Optional). Control your garage door locally. Secure, wired communications. Periodic timeout on repeated incorrect code entry (you will also be notified by phone). Visual indicators signal power failure conditions, keypad timed out status, etc.
Made in the USA